Equipment & Machinery


Used equipment & Machinery

R & R Tractors have a huge range of used machinery and tractors for sale. If we don't have the item you are looking for, we will do our very best to locate it for you. As part of the Norwood network, we have access to the largest dealer networks of used tractors for sale in New Zealand!
New Holland TLA 80 SN7882
Stock Number: 7882
Description:

One Owner and a tidy example of the New Holland TLA 80 4WD Tractor with ROPS and MX754 Loader with 86 hp and 5500 hours.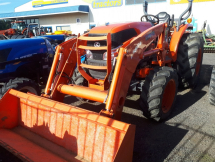 Kubota L5740 HS SN 8105
Stock Number: 8105
Description:

Kubota L5740 HS, Comes with FEL, Forks & ROPS -Very Tidy Tractor with 250 Hours, 58 HP no longer needed.
John Deere 2020 SN 8100
Stock Number: 8100
Description:

1970 John Deere 2020- 2WD, Fairly Straight & Tidy for Age. Plenty of Life left for Small Lot Holder
55 HP and 5647 Hours.
FORD 6640 SLE SN 8049
Stock Number: 8049
Description:

FORD 6640 SLE - Very Popular Model. Has done moderate hours.Comes with CAB & FEL. Wet clutch, semi power shift.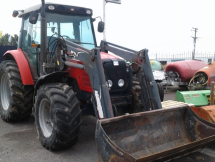 Massey Ferguson 5445 SN 8161
Stock Number: 8161
Description:

Massey Ferguson 5445- Dairy Farm Tractor and comes with Air Con Cab, Loader, Bucket & Silage Fork. 85HP , 4WD & 3rd Service. A very popular model.
NH T6070 PLUS SR SN 8097
Stock Number: 8097
Description:

Tidy New Holland T6070 PLUS Tractor- Comes with FEL, 3rd Service & CAB. 140 HP with 4600 Hours, Good Tyres and Runs Well
New Holland TL90 ROPS SN 7974
Stock Number: 7974
Description:

New Holland TL90, 4WD, ROPS & fitted with Quickie Q740 Loader. 90HP & 3800 Hours
Ferrari VEGA SDT 85 SN 8144
Stock Number: 8144
Description:

Tidy Ferrari VEGA SDT 85 Orchard Tractor- 4WD, 200 Hours & 85hp.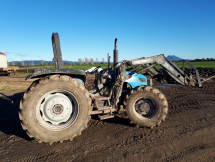 Landini Atlantis 85 SN 8081
Stock Number: 8081
Description:

Very Tidy 4WD Landini Atlantis 85 - 85 HP and 3650 hours. Comes with Loader