Equipment & Machinery


Used equipment & Machinery

R & R Tractors have a huge range of used machinery and tractors for sale. If we don't have the item you are looking for, we will do our very best to locate it for you. As part of the Norwood network, we have access to the largest dealer networks of used tractors for sale in New Zealand!
Kubota RTV900X SN7696
Stock Number: 7696
Description:

Kubota RTV900X Utility Vehicle with ROPS (Roll Over Protection System). 3662 Hours, 1 owner, tidy machine.
Kubota RTV900XT GP SN7382
Stock Number: 7382
Description:

2011 Kubota RTV900XT GP Utility Vehicle, 23HP, 4300 Hours complete with windscreen and roof, 1 owner, never used off-road, very tidy.
Kubota RTV900WS SN8045
Stock Number: 8045
Description:

Tidy KUBOTA RTV900WS - 1846 Hours, 21HP complete with Windscreen & Hydraulic Tip Tray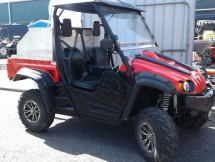 Massey Ferguson MF700CX SN8257
Stock Number: 8257
Description:

Massey Ferguson MF700CX- Utility Vehicle. 700cc, 4 Stroke Petrol Engine. CVT Transmission
4WD, Front Winch, Tipping Deck.
Good Condition, 600 Hours