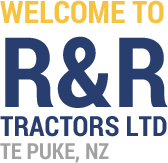 Product Finder
COVID-19 Alert Level 4 Status
Apologies, premises access is prohibited.
We are able to supply Essential Customers only.
Due to the increase of Covid-19 Virus the following terms apply:
· Premise access is prohibited
· No Eftpos or Cash Sales
· Charge Accounts only including Farmlands Cards
· Essential Staff only on site
· One person at a time for service
· Two metre distance between people
· Please phone 07 573 9107 for assistance
Other Services
Parts Enquiries: 021 495 352
Field Technicians: 021 495 353
Queries or Clarification: 021 969 115
These measures are for the safety of our staff, their families as well as you and your families, and to help control the spread of Covid-19.
Thank you for your understanding.
Robin, Robert and the Team.
R&R Tractors, Te Puke have been servicing NZ farmers, growers, orchardists and landowners with tractor, machinery and specialty equipment since 1989.