Equipment & Machinery


Used equipment & Machinery

R & R Tractors have a huge range of used machinery and tractors for sale. If we don't have the item you are looking for, we will do our very best to locate it for you. As part of the Norwood network, we have access to the largest dealer networks of used tractors for sale in New Zealand!
John Deere 1145 60" SN7758
Stock Number: 7758
Description:

1996 John Deere 1145 60". 3273 Hours and 20.9 hp Oldie but a goodie. Diesel horsepower for your Avocado or Berryfruit Orchard.
Kubota ZD28 SN 7776
Stock Number: SN 7776
Description:

Zero Turn Kubota ZD28 Ride on with 72" Side Discharge Deck. With 28 HP and 1122 hours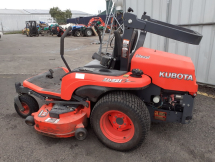 Kubota ZD221 54 SD SN8280
Stock Number: 8280
Description:

Kubota ZD221 54" Side Deck Discharge - 21HP Tidy Zero Turn Ride on Mower with only 350 Hours
Kubota ZD 331 72SD SN 7979
Stock Number: 7979
Description:

Tidy Zero Turn Mower with 72" Side Discharge, runs well. 29 hp and 950 hours
Kubota ZD18 SN 8019
Stock Number: 8019
Description:

Kubota ZD18 - 54" Mid Mount Zero Turn in good condition. 3700 Hours & 18HP
Husqvana P2T 54 SN 8095
Stock Number: 8095
Description:

Husqvarna P2T 54 - Zero Turn with Catcher - 54" Cut, Tidy, One Owner & Well Maintained.
Trimax 340 Stealth Trailmaster SN 8216
Stock Number: 8216
Description:

Trimax 340 Stealth Trailmaster - 3.4m cut, Folding Trailed, Good for Sports Field or Golf Course