Equipment & Machinery


Used equipment & Machinery

R & R Tractors have a huge range of used machinery and tractors for sale. If we don't have the item you are looking for, we will do our very best to locate it for you. As part of the Norwood network, we have access to the largest dealer networks of used tractors for sale in New Zealand!
Winstone Typhoon 1500 SN 8170
Stock Number: 8170
Description:

Good 1500LT Sprayer- comes with Flow TRA Monitor
Fantini ECO 2000 SN 8210
Stock Number: 8210
Description:

Fantini ECO 2000 - NZ'S favourite Kiwifruit Sprayer. Airblast 2000lt with Back Flush System.
Manual Control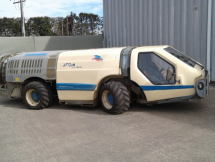 Fantini Atom 2000 SN 8076
Stock Number: 8076
Description:

Tidy Fantini Atom 2000- 2200 Hours, Good Runner, 2000 LT
Price:
$112000.00
(plus GST)
Enquire
Fantini Atom 2000 SN 8231
Stock Number: 8231
Description:

2014 FANTINI ATOM 2000- SPRAY IN COMFORT IN AN AIR CONDITIONED CARBON FILTERED
CAB. GENUINE 2450 HOURS, RARELY TRADED WITH THESE LOW HOURS
NH TDF 75 SN 7924
Stock Number: 7924
Description:

New Holland TDF 75- Popular Make & Model, 4WD,Fully Orchardised to Kiwifruit. Fitted with Belly Pan
Croplands Cropliner 2000 SN 8064
Stock Number: 8064
Description:

Everpopular Croplands Cropliner 2000 -with AR170 Pump, Twin Rings & 820 Fan
Fantini ECO 2000 SN 7921
Stock Number: 7921
Description:

Fantini ECO 2000. Full Electric Controls with Flow Trac Controller
Fantini ECO 2000 AVO SN 7902
Stock Number: 7902
Description:

Fantini Complete with 220 Pump and Single Sided Valute. Ideal for Shelters and Avocados